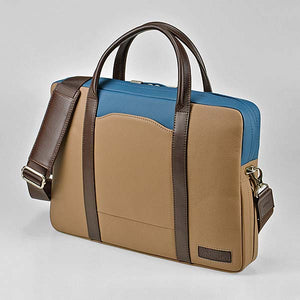 Unofuku created a unique opportunity to re-imagine some of our iconic bag designs through a collaboration between the famous French designer based in Iceland Jérôme VADON and our in-house design team lead by Yuji OKADA. The UNOFUKU briefcase is available in 4 striking colors chosen as an homage to the natural world of Europe.
Blue the color of the afternoon sky.
Red the sky at sunset.
Green of the ancient forests of Europe.
Purple the color of the same forests in the light of the moon.
Color: Blue
Material: Cow leather
Size:15.0×11.0×2.0 inches
Weight:2.7 lb  
Region of origin:Turkey