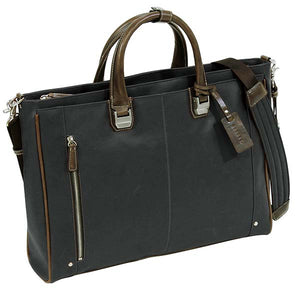 The synthetic leather used on Unofuku's TREASURE Briefcase has a vintage look and color which deepens with use and wear, transforming each bag into a truly unique accessory. Designed with a rich variety of available colors and a dedication to ultimate functionality. 
Color: Black
Material: Vegan leather
Size:16.5×12.2×3.9 inches
Weight:2.1 lb  
Region of origin:China
Uses characteristic metal parts for the seat part of the handle. The beautiful metallic luster gives the bag a sharp and dignified image.
Bag Exterior: The bag is equipped with tilt pockets on the front and back of the main unit. The tilt pocket has a magnetic hook closure. Inside the tilt pocket on the front side, there is a pocket for a smartphone, a pen holder, and an open pocket. There is also a front zipper pocket.